What Is CustomFit?
CustomFit makes sweater patterns that are customized to your choice of: 
Gauge: You can (and should!) use your own gauge, instead of the ball band or an "even" gauge
Measurements: Your pattern is just right for you, with no modifications - for men, women, and kids
Fit: From close to the body or hugely oversized, select a fit that you like to wear
Silhouette: From boxy styles without shaping, to fitted (men's and women's) to slightly A-line to full on trapeeze
Lengths: Every design is available in 4 sweater lengths and 4 sleeve lengths
For any pattern that's built directly into CustomFit, a few selections in a drop-down menu are all that stands between you and a great sweater. If you want to start with something simpler, check out our collections of great, basic sweaters. If you're ready for more, create your own design with our Build Your Own sweater wizard. 

If you're bold and ready to dive in, take a look around! But if you want a little more guidance about how to get started with measurements, gauge, fit, and silhouette - you've come to the right place. 
Getting Started - Swatching
Knitters tell me all the time that swatching for CustomFit is an amazing, freeing experience. There are no wrong gauge numbers, as far as CustomFit is concerned - your pattern will be written to your exact stitch size. For CustomFit, your swatch needs to let you: 
Predict how large your stitches will be, when you knit your sweater; 
Let you understand whether you like the fabric enough to want to wear it. 
That's it! Here's how I recommend swatching for those two goals: 
CO between 35 and 50 stitches.
Knit in the stitch pattern you'll use for the sweater, for at least 5'' ( 12.5 cm). BO. 
Wash and dry your swatch the way you'll wash and dry the sweater. 
Play with it! Do you like the fabric? Does it match what you have in mind? 

If so, you're ready to measure your stitch and row gauge. 
If not, try again - with different yarn, different needles, etc. 
I recommend measuring your stitch and row gauge as precisely as you can. Here's how I do it: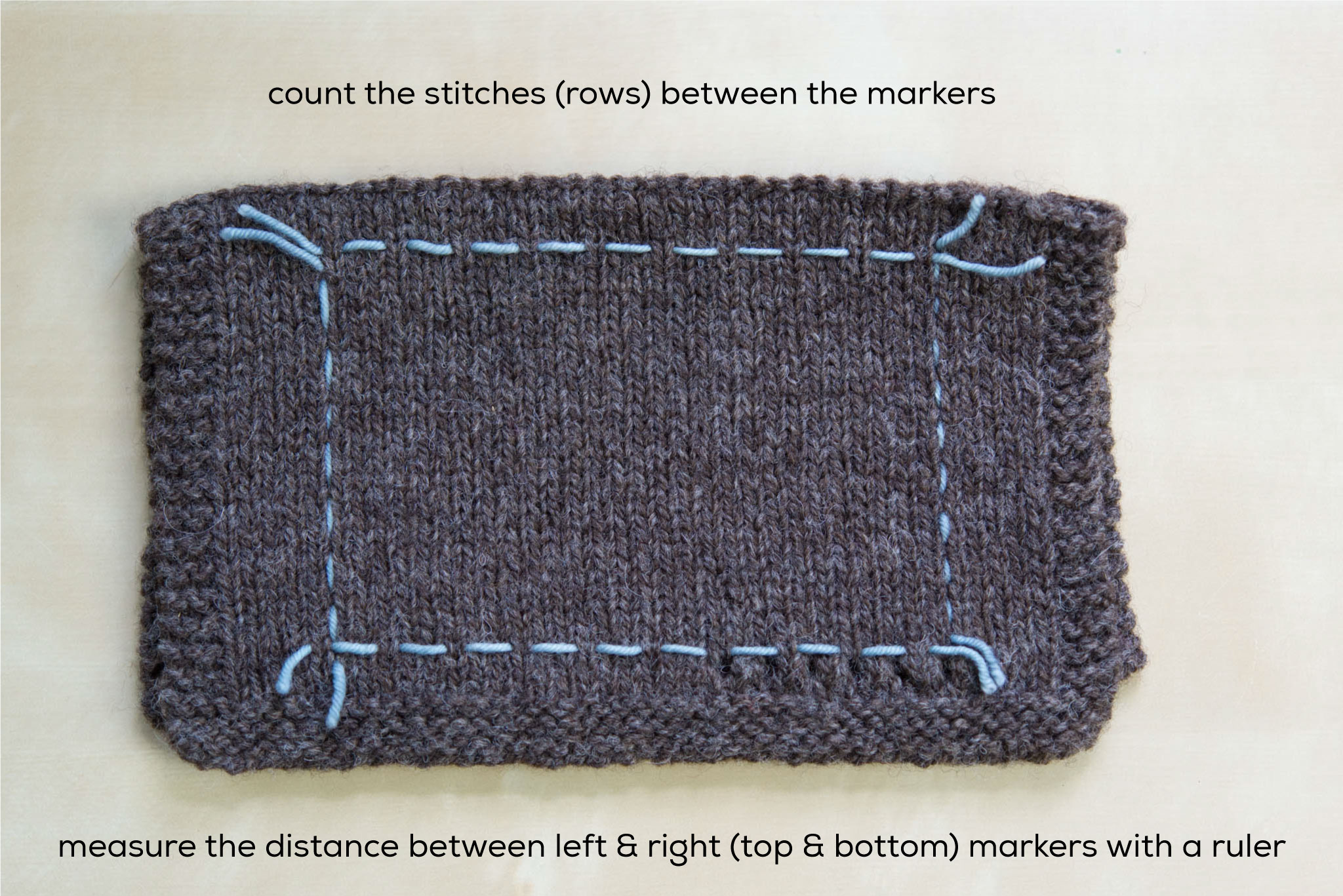 I outline (usually with safety pins or dental floss) the number of stitches and rows that I think will give me good data. If your stitches close to the bottom edge are wonky, don't include them! Stay a few stitches away from the edge. However your swatch looks, identify the section that represents you knitting at your most relaxed and (dare I say it?) bored.
Count the stitches between your marked edges (say, 26). Measure from one marked edge to the other with a ruler (say, 4.375 inches.) Enter the information into CustomFit in exactly this way.  
Do the same for your rows (say, 18 rows in 2.625 inches). 
That's it! CustomFit will take it from there. 
Getting Started - Measurements
Measurements might seem daunting, but they're not so hard! I've got a complete set of YouTube videos showing you the entire process on a friend, but you can also make a great sweater with a much simpler set of circumferences you can take on yourself: 
Bust/Chest, waist, and hip (taken wherever you'd like your sweater's hem to fall) 
Bicep, wrist
Upper torso (helpful for women: take a circumference around your entire torso, up at the armpit level)
When taking circumferences, keep the measuring tape more or less level around you, and pull it snug enough that it won't slip.
You only need a few lengths to make a great first sweater, as well - and, you can measure them on a piece of clothing whose lengths you like: 
Armhole depth (measure straight up and down, from the vertical point where the armhole shaping starts to the shoulder)
Below-the-armhole length (measure from the armhole shaping point straight down to the bottom of the shirt)
Sleeve length (measure from that same armhole point along the sleeve's underarm seam to the wrist)
Here's what those lengths will look like on a garment: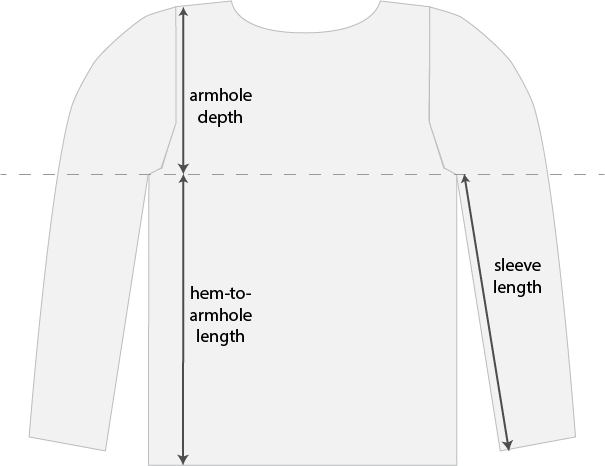 You can take all of these measurements yourself, and they're all you need - no stress! Once you have, you can save them in your CustomFit account and never think of them again. 
Getting Started - Fit
CustomFit will make all decisions about ease if you'd like. Choose "close," "average," "relaxed," or "oversized," and we'll do the rest! You can click here to see a visual comparison of the different fits CustomFit offers. Generall speaking, for women: 
A close fit will try to give you a smidge of negative ease in the bust and chest, and some positive ease in the waist, with slightly snugger shoulder fit; 
An average fit will try to give you around zero (to a little positive) ease in the bust and chest, and more positive ease in the waist, with an average shoulder fit; 
A relaxed fit will try to give you a bit of positive ease in the bust and hips, and lots more in the waist, with a slightly more relaxed shoulder fit; 
An oversized fit will have the same shoulders as relaxed, but will have substantial positive ease everywhere. 
For men and children, the fits are all a bit more generous than for women, with the exception of a men's close fit, which is quite close to the body. 
If you prefer, you can also customize the measurements of your sweater before creating your pattern by clicking the "customize fit specifics" button. I definitely endorse this approach, if you already know what you like! If you don't know what you like, give CustomFit's recommendations a try for your first sweater and adjust (if necessary) from there. 
Getting Started - Silhouettes
All CustomFit patterns as of February 2018 are seamed, set-in sleeve sweater patterns. Most of the patterns can be made in mulitple silhouettes for the torso. There are four:  
Straight silhouettes have no waist shaping; the circumference at the hips is equal to that at the chest. 

A-line silhouettes have a wider hem than bust/chest, and shaping is worked at the side seams evenly over the length of the body of the sweater.  

Tapered silhouettes have a narrower hem than bust/chest, with shaping worked at the side seams evenly over the length of the body of the sweater. These require a simple set of body measurements. 

Hourglass silhouettes include customized waist and bust shaping for your body. 
Designs are marked with their allowed shapes via small icons, and are typically pictured only in one silhouette.  
Accounts and Cost
Create an account for free! You can store up to 10 sets of body measurements, and as many gauges as you like. Each pattern then costs between $10 - $12.50, depending on the complexity of the design. 
We also offer two subscription levels for knitters who like to change their mind (or make a lot of sweaters :).  Maker-level subscriptions cost $5 per month, and the first 2 patterns you generate in any particular month are included. Maker Plus costs $8 per month, and subscribers get unlimited pattern creation.
Both levels mean you can change your mind about what sweater you're knitting as often as you like! In addition to discounted patterns, maker subscribers get access to a set of handy knitting calculators, and monthly sweater lessons from Amy. The calculators are useful for changes to your CustomFit patterns and lots of other projects you might be knitting. They include a gauge calculator, a stitch pick-up calculator, a button band spacer, a sleeve cap generator, and a shaping placer - and this set continues to expand! Any's monthly lessons give you up close and personal advice from Amy about one aspect of sweater knitting. 
Once you create your pattern, it will be in your account forever and you can download it as a PDF as many times as you like. (Want to know what a pattern looks like? Here's a sample PDF!)
Still have a question?
Please see our resources for new knitters, our advanced design resources, and our help center.