Take a closer look!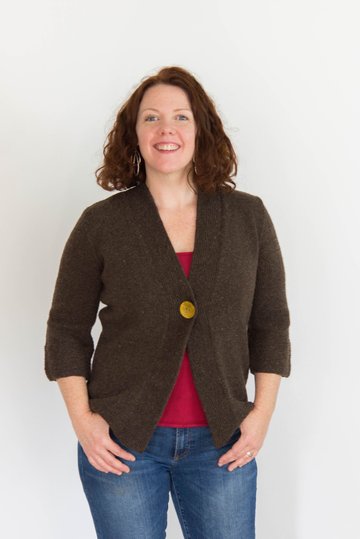 This elegant, versatile cardigan features deep garter cuffs and trim, 3/4 sleeves, a narrow deep V neck and a single fabulous button.
Amy is shown here wearing an average fit.
---
Yawl is $9.99 or one credit.
---
Customize your Yawl
---
Sorry, you need to be logged in to make a personalized, custom-fitting version of Yawl:
Don't have an account yet?
Sign up
Pictured in hourglass silhouette. Also available in a-line, straight, and tapered silhouettes. Please see our page on silhouettes for a full explanation of silhouettes in Customfit.
We worked Yawl in Green Mountain Spinnery Mewesic, in the color Norwegian Woods. This is a soft, delightful woolenspun yarn with a beautiful heathered palette. It makes a fantastic and hardwearing sweater that's comfortable dressed up or down.
Amy liked Mewesic when worked at around 5.25 stitches to the inch.
Yawl uses the following design choices:
Style: cardigan
Silhouettes: Pictured in hourglass silhouette. Also available in a-line, straight, and tapered silhouettes.
Length: Long
Sleeves: Three-quarter-length straight sleeve
Neck style: Narrow-width narrow-width vee neck
Neck depth: 3"/7.5 cm below armhole-shaping start
Finishing:

Hem edging and height: Garter Stitch, 2½"/6.5 cm
Sleeve edging and height: Garter Stitch, 3½"/9 cm
Button band allowance: 2"/5 cm
Button band edging and height: Garter Stitch, 2"/5 cm