Take a closer look!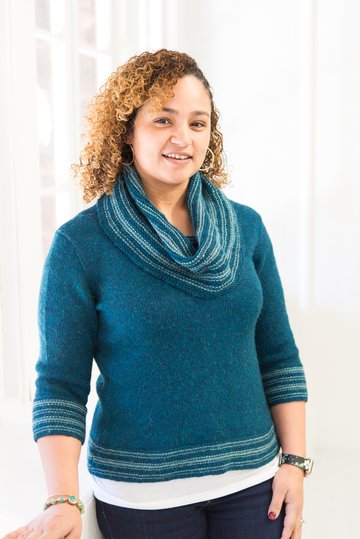 Trimmings (as originally published) is a flexible pattern with many possibilities. The kicky stripes make the perfect edging on a simple, trim silhouette, and the sweater can be knit with either of two sleeve options, paired with either of two necklines, combined with either of two hem heights. We've given you two choices: A cowl neckline with 3/4 sleeves, narrow hem, and a mid-hip length; a turtleneck with long sleeves, a wider hem, and a low-hip length.
The contrasting color in the stripes will use only a small amount of yarn, and is a grea a fun chance to use up handspun, a favorite sock yarn, or just some of those brightly-colored bits of awesomeness you have floating about. The sweater will work in any weight yarn from fingering through bulky, though please note that the heavier the yarn, the thicker the neckline will feel.
Trimmings will work well in any fit choice, but was originally designed for "average fit".
---
Trimmings Cowl is $12.50 or one credit.
---
Customize your Trimmings Cowl
---
Sorry, you need to be logged in to make a personalized, custom-fitting version of Trimmings Cowl:
Don't have an account yet?
Sign up
Pictured in hourglass silhouette. Also available in a-line, straight, and tapered silhouettes. Please see our page on silhouettes for a full explanation of silhouettes in Customfit.
Berroco Ultra Alpaca Light [50% Super Fine Alpaca; 50% Peruvian Wool]: 144 yds/133 m per 50 g hank. Cowl shown in 4285 (MC) and 4294 (CC); turtleneck shown in 4275 (MC) and 4277 (CC).
Trimmings Cowl uses the following design choices:
Style: pullover
Silhouettes: Pictured in hourglass silhouette. Also available in a-line, straight, and tapered silhouettes.
Length: Average
Sleeves: Three-quarter-length tapered sleeve
Neck style: Average-width average-width scoop neck
Neck depth: 2"/5 cm above armhole-shaping start
Finishing:

Hem edging and height: Garter Stripe Stitch, 2½"/6.5 cm
Sleeve edging and height: Garter Stripe Stitch, 2½"/6.5 cm
Neck edging and height: Garter Stripe Stitch, 12"/30.5 cm