Take a closer look!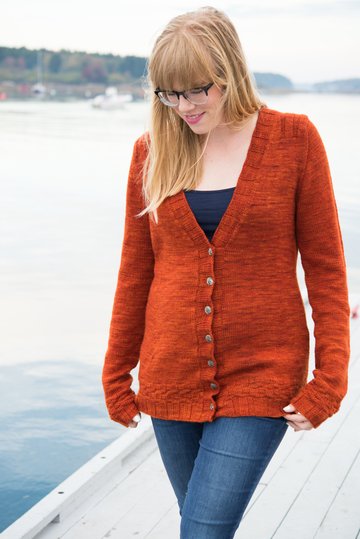 The Harbor Island Cardigan is relaxed, friendly, and warm - just the ticket for chilly nights in front of a fire or for a walk along the coastline. Its long sleeves, longer length, and deep V neckline layer beautifully. A textured stitch pattern is fun to knit and subtly showcases a beautiful yarn.
The sample is shown in Indigodragonfly's Sad Lester DK, an utterly gorgeous 100% BFL yarn that knits like a dream. It's wooly, a little on the gruff side, and glorious to wear. We used the color "The New Black", but Kim produces gorgeous, saturated shades - so find a color that speaks to you!
While the design was originally conceived with stitch patterning only on the bottom of the sweater and typical long sleeves, Lauren changed things a bit to balance her shape and make the sweater her own. Extra-long sleeves are super snuggly, and ribbing at the top of her sweater as well as at the bottom adds interest to the shoulder area and balances the stitch patterning at the bottom of the sweater. To achieve extra long sleeves, add length during the "Pop the hood" phase of your pattern creation. Instructions for including ribbing at the top of the sweater, as shown, are included in your pattern.
Harbor Island will look wonderful in any fit, but is shown in a 'relaxed' fit.
---
Harbor Island Cardigan is $12.50 or one credit.
---
Customize your Harbor Island Cardigan
---
Sorry, you need to be logged in to make a personalized, custom-fitting version of Harbor Island Cardigan:
Don't have an account yet?
Sign up
Pictured in hourglass silhouette. Also available in straight silhouette. Please see our page on silhouettes for a full explanation of silhouettes in Customfit.
Harbor Island Cardigan uses the following design choices:
Style: cardigan
Silhouettes: Pictured in hourglass silhouette. Also available in straight silhouette.
Length: Long
Sleeves: Full-length tapered sleeve
Neck style: Average-width average-width vee neck
Neck depth: 3"/7.5 cm below armhole-shaping start
Finishing:

Hem edging and height: 4x4 Ribbing, 4½"/11.5 cm
Sleeve edging and height: 4x4 Ribbing, 4½"/11.5 cm
Button band allowance: 1½"/4 cm
Button band edging and height: 4x4 Ribbing, 1½"/4 cm