Take a closer look!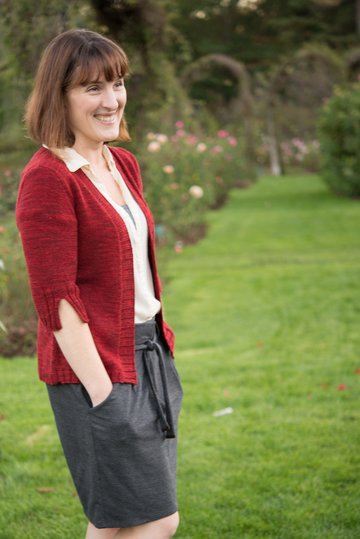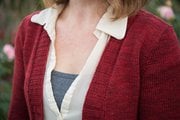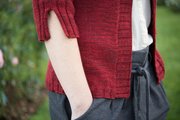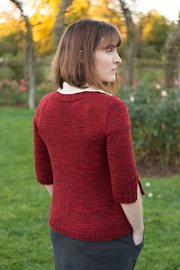 Tweet
---
Hakone is $12.50.
---
Hakone by Amy Herzog
Hakone is an understated, wearable cardigan that brings a little bit of luxury into our daily lives. The sample is worked in a beautiful fingering blend of wool, cashmere, and silk; it matches the design beautifully and the sweater is both polished enough to wear for special occasions and soft enough to wear every day.
The 3/4 notched sleeves and tailored shaping nicely counterpoint the more casual worn-open style and make the sweater incredibly versatile: It can be dressed up or down, works when worn with both close and more relaxed fits, and is a great choice for any season.
For stability, I recommend working Hakone from the bottom up in pieces, and then seaming. It is mostly Stockinette, and trimmed in 3x2 ribbing; the sleeves are worked in two pieces which are then joined to form the notches. The neckline is picked up and worked in 3x2 ribbing after seaming.
I used Spirit Trail Fiberworks' delicious Sunna yarn for this sweater. The wool/cashmere/silk blend is lightweight but warm, and has both a lustrous glow (from the silk) and a terrific bloom (from the cashmere). It elevates the sweater into an incredible daily hug that you can't wait to put on.
Hakone is an hourglass design, so your final pattern will have waist and bust shaping. You can only use complete measurement sets to create this pattern.
Hakone uses the following design choices:
Style: cardigan
Silhouette: Hourglass silhouette
Length: Medium-hip length
Sleeves: Three-quarter-length straight sleeve
Neck style: Average-width vee neck
Neck depth: 2"/5 cm below armhole-shaping start
Finishing:

Hem edging and height: 3x2 Ribbing, 1¼"/3 cm
Sleeve edging and height: 3x2 Ribbing, 3"/7.5 cm
Button band allowance: 4½"/11.5 cm
Button band edging and height: 3x2 Ribbing, 2"/5 cm