Take a closer look!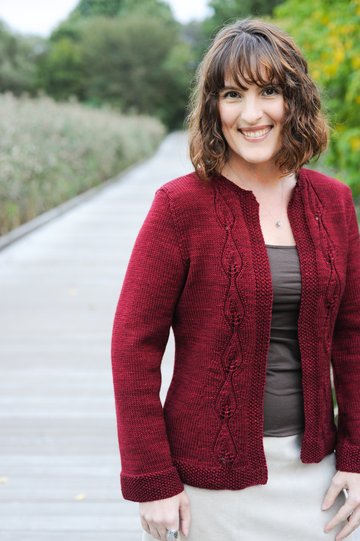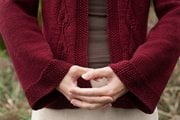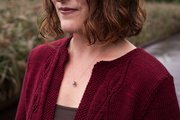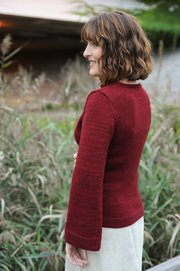 ---
Alight is $12.50.
Pictured in hourglass silhouette. Also available in straight silhouette.
---
Alight by Amy Herzog
Alight is inspired by, and designed for, my best friend Beth. Among the many things I love about her, Beth is one of the strongest women I know. Sure of herself and confident, she meets challenges head-on and with no mincing around. For her birthday, I wanted to design a sweater that properly captured her bold personality and elegant, clean style.
For stability with this worn-open style, I recommend working Alight in pieces from the bottom up and then seaming. Unlike the originally published pattern, the seed stitch front bands are picked up and worked perpendicularly to the fronts. The neckline is then picked up and worked, with decreases forming the mandarin collar shape.
Due to the 17-stitch count of the Candle Flames panel, I recommend working Alight in a yarn between a heavy sport and a light worsted weight, so that the panels will neither interfere with waist shaping nor appear very narrow on the fronts.
Alight is available in hourglass and straight silhouettes. Please see our page on silhouettes for a full explaination of silhouettes in Customfit.
The Plucky Knitter Plucky Sweater [90% merino; 10% nylon]: 270 yds/247 m per 100 g hank, shown in color Barn Door.
Alight uses the following design choices:
Style: cardigan
Silhouettes: Pictured in hourglass silhouette. Also available in straight silhouette.
Length: Low-hip length
Sleeves: Full-length bell sleeve
Neck style: Narrow-width crew neck
Neck depth: 3"/7.5 cm below shoulders
Finishing:

Hem edging and height: Seed Stitch, 2"/5 cm
Sleeve edging and height: Seed Stitch, 2½"/6.5 cm
Neck edging and height: Seed Stitch, ¾"/2 cm
Button band allowance: 1"/2.5 cm
Button band edging and height: Seed Stitch, ½"/1.5 cm