Take a closer look!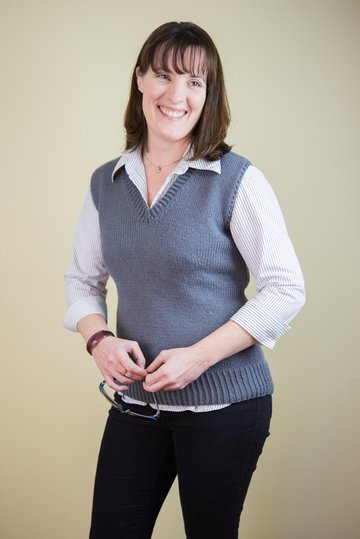 V-neck sweater vests make a perfect first dip into sweater knitting. They're simple, practical, and look great on just about everyone. This one features a classic silhouette, a just-deep-enough neckline, and twisted 1x1 ribbed trim throughout. It's shown in a close fit on Beth, but will look great no matter which fit you choose.
Sample shown in Blue Sky Alpacas Extra, in color "Fedora".
---
---
Customize your Shoal (a v-neck vest)
---
Sorry, you need to be logged in to make a personalized, custom-fitting version of Shoal (a v-neck vest):
Don't have an account yet?
Sign up
Pictured in hourglass silhouette. Also available in a-line, straight, and tapered silhouettes. Please see our page on silhouettes for a full explanation of silhouettes in Customfit.
This sample was knit in Blue Sky Alpacas Extra, a super-luxe blend of alpaca and merino. It has exquisite stitch definition, a lovely heft, and comes in generously-sized hanks.
I used the color "Fedora", at a gauge of approximately 4.5 stitches per inch. At this gauge, to make a standard-size 30 (32, 34, 36, 38, 40, 42, 44, 48, 52, 56, 60)'' / 76 (81.5, 86.5, 91.5, 96.5, 101.5, 106.5, 112, 122, 132, 142, 152.5) cm sweater, you'll need approximately 3 (3, 3, 3, 4, 4, 4, 4, 5, 5, 5, 6) hanks of Extra.
Shoal (a v-neck vest) uses the following design choices:
Style: pullover
Silhouettes: Pictured in hourglass silhouette. Also available in a-line, straight, and tapered silhouettes.
Length: Average
Neck style: Narrow-width narrow-width vee neck
Neck depth: ½"/1.5 cm below armhole-shaping start
Finishing:

Hem edging and height: Twisted 1x1 Ribbing, 3"/7.5 cm
Armhole edging and height: Twisted 1x1 Ribbing, ¼"/0.5 cm
Neck edging and height: Twisted 1x1 Ribbing, ¾"/2 cm