Take a closer look!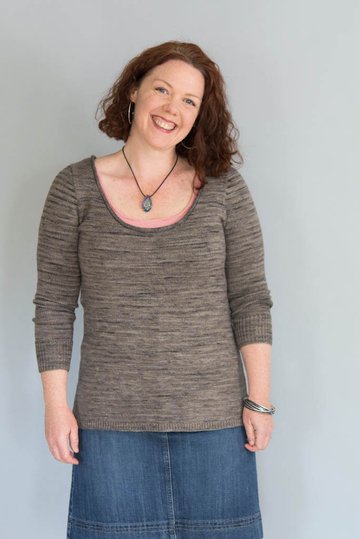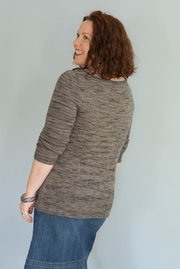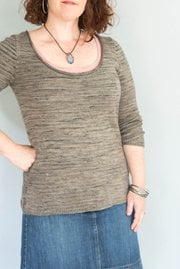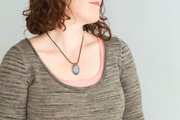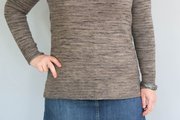 ---
Bourrasque is $9.99.
Pictured in a-line silhouette. Also available in hourglass, straight, and tapered silhouettes.
---
Bourrasque by Amy Herzog
Bourrasque is an homage to one of my most favorite store-bought tops: A wide-necked A-line number that I wear constantly. It's incredibly comfortable, makes me feel chic the second I slip it on, and is roomy and flowy enough for me to stop thinking about the clothes I'm wearing and just get on with whatever I'm doing.
I feel the same way about the sweater. Worked up in Indigodragonfly Chameleon Sock, an incredible merino-cashmere-silk blend, the fabric is almost unspeakably delicious next to the skin, and has a great fluidity and movement. The A-line shaping makes the sweater float next to my body rather than clinging to it. Bourrasque has found a new home at the top of my closet rotation.
I'm wearing the pullover in a close fit, which pertains largely to the shoulders: In A-line sweaters, the bottom is still plenty roomy (this sample has about 5'' (12.5 cm) of ease in my hips) even in a 'close' fit.
Bourrasque is available in a-line, hourglass, straight, and tapered silhouettes. Please see our page on silhouettes for a full explaination of silhouettes in Customfit.
I used Indigodragonfly Chameleon Sock in the colorway "Patina Fey" for this sweater. The mix of merino, silk, and cashmere is utterly to-die for, and gives a soft, fluid hand to the fabric of the sweater. I strongly, strongly recommend it or a similar blend.
If you're using the Chameleon, I liked a gauge of 7.5 stitches to the inch. (...I know. But if it helps, trust me: Fingering weight sweaters are amazing.)
Bourrasque uses the following design choices:
Style: pullover
Silhouettes: Pictured in a-line silhouette. Also available in hourglass, straight, and tapered silhouettes.
Length: Low-hip length
Sleeves: Full-length tapered sleeve
Neck style: Wide scoop neck
Neck depth: 1"/2.5 cm above armhole-shaping start
Finishing:

Hem edging and height: 1x1 Ribbing, 1"/2.5 cm
Sleeve edging and height: 1x1 Ribbing, 3½"/9 cm
Neck edging and height: Stockinette, ¾"/2 cm