Take a closer look!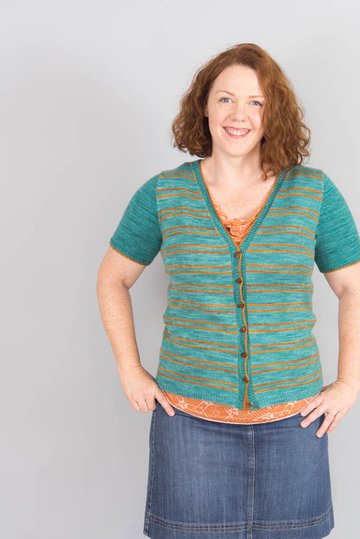 Zinger is a perfect summer cardigan with layer-friendly lines and fun stripes. It features a simple double-stripe pattern on the body, and contrasting-color edges on the sleeves and button band - all within a flattering deep-V, short-sleeve silhouette. Zinger is worked with hourglass waist shaping and broken 1x1 rib trims; I worked the neck shaping to be fully-fashioned, but you can work yours however you would like.
Zinger features short sleeves and your long-sweater-length by default, but you can change both of those before creating your pattern if you would like to do so.
---
Zinger is $12.50 or one credit.
---
Customize your Zinger
---
Sorry, you need to be logged in to make a personalized, custom-fitting version of Zinger:
Don't have an account yet?
Sign up
Pictured in hourglass silhouette. Also available in straight silhouette. Please see our page on silhouettes for a full explanation of silhouettes in Customfit.
This sample was worked in the stunning, drapey, gorgeously-soft Indigodragonfly Chameleon Sock, which has quickly become one of my most favorite sweater yarns. I used the colors "Who Doesn't Love a Kangaroo?" (orange) and "Tina Turner wants her wig back" (blue), both special-edition colorways I fell in love with at the 2016 make. wear. love. west retreat - but the fun of this design is putting your own individual color stamp on the stripes.
I liked the Chameleon at a relatively firm gauge of 7.5 stitches and 10 rows to the inch. Zinger will look good in a variety of yarn weights, but if you'd like to preserve the proportion of the stripes vs. body, I recommend a fingering or sport weight for this sweater.
The buttons I used for this sample are glass, from the talented artisans at Moving Mud, one of my must-see stops at each year's New York Sheep and Wool festival.
Zinger uses the following design choices:
Style: cardigan
Silhouettes: Pictured in hourglass silhouette. Also available in straight silhouette.
Length: Long
Sleeves: Short tapered sleeve
Neck style: Average-width average-width vee neck
Neck depth: 2"/5 cm below armhole-shaping start
Finishing:

Hem edging and height: 1x1 Broken Rib, 1"/2.5 cm
Sleeve edging and height: 1x1 Broken Rib, ½"/1.5 cm
Button band allowance: 1"/2.5 cm
Button band edging and height: 1x1 Broken Rib, 1"/2.5 cm