Take a closer look!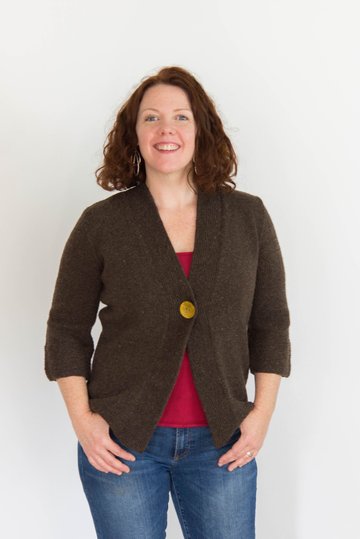 Yawl is part of my "CustomFit Basics" collection - a set of classic garments with simple trims, designed to work in a wide variety of yarns, silhouettes, and fits. Yawl is a riff on a classic kimono-styled cardigan: It features thick garter trims on all edgings, and roomier straight sleeves. Shown in 3/4 length here, they appear only a little kimono-like; at longer lengths, they almost appear belled.
I've closed the cardigan with a single large, statement button - the overlapping this produces in the neckline trim adds to the kimono feel. Keep this look by using a fabric that's on the sturdier side, like I've done - or change it up completely with a fabric that has a lot of drape. Amy is shown here wearing an hourglass average fit.
---
---
Customize your Yawl
---
Sorry, you need to be logged in to make a personalized, custom-fitting version of Yawl:
Don't have an account yet?
Sign up
We worked Yawl in Green Mountain Spinnery Mewesic, in the color Norwegian Woods. This is a soft, delightful woolenspun yarn with a beautiful heathered palette. It makes a fantastic and hardwearing sweater that's comfortable dressed up or down.
Amy liked Mewesic when worked at around 5.25 stitches to the inch. At that gauge, to make a standard-size 30 (32, 34, 36, 38, 40, 42, 44, 48, 52, 56, 60)'' / 76 (81.5, 86.5, 91.5, 96.5, 101.5, 106.5, 112, 122, 132, 142, 152.5) cm sweater, you'll need approximately 6 (6, 7, 7, 8, 8, 9, 9, 10, 11, 12, 13) hanks of the original yarn.