Take a closer look!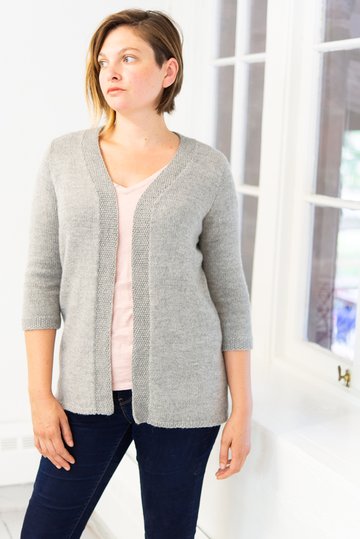 The Worn-Open Cardigan is part of my "CustomFit Basics" collection, a series of basic sweaters with simple trims designed to work with just about any yarn you'd like to use. Cardigans meant to be worn open are deservedly popular - they're very easy to throw on and off, go with a variety of different outfits and styles, and work well across a variety of yarns.
This one features seed stitch trim on the cardigan opening and sleeve cuffs, and discreet 1x1 ribbing on the bottom. Worked in pieces from the bottom up and then seamed, with set-in sleeves, I've shown it here in an easygoing straight silhouette. You can also make it a-line, hourglass, and tapered silhouettes, for anyone you'd like.
---
---
Customize your Worn-open Cardigan
---
Sorry, you need to be logged in to make a personalized, custom-fitting version of Worn-open Cardigan:
Don't have an account yet?
Sign up
I used Aalta Truth for this sample, in the color "Light Gray". This 80% merino / 20% baby alpaca yarn is a dream to knit with and to wear - it's soft, softly heathered, and with a soft halo. (Did I mention soft?)
To make a standard-size 30 (32, 34, 36, 38, 40, 42, 44, 48, 52, 56, 60)'' / 76 (81.5, 86.5, 91.5, 96.5, 101.5, 106.5, 112, 122, 132, 142, 152.5) cm sweater, you'll need approximately 4 (4, 4, 4, 5, 5, 5, 5, 6, 6, 7, 7) hanks of Truth to make this yarn.
(If you're using anything else, I strongly recommend Hannah Fettig's excellent app Stashbot for estimating your yardage needs.)