Take a closer look!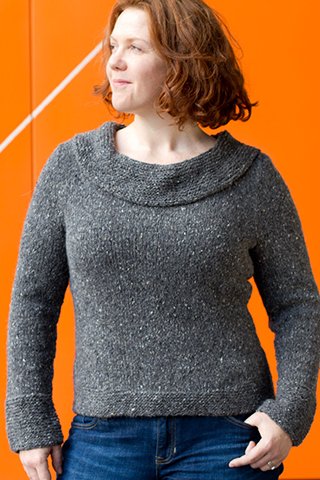 Wintry Mix lets you have your cake and eat it too: A comfortable, cozy sweater for the chilliest of days that still flatters your figure. The long, nearly-straight sleeves and curved garter panels flatter the figure and provide some interest to the knitter.
The wide neckline is formed by working the neck stitches on progressively larger needles, until quite a floppy fabric is achieved; bind off loosely and instead of a tall, snuggly cowl you'll get a gorgeous portrait collar. You will need needles in sizes one, two, and three needle sizes larger than your main needle size for the neckline.
---
Wintry Mix is $12.50 or one credit.
---
Customize your Wintry Mix
---
Sorry, you need to be logged in to make a personalized, custom-fitting version of Wintry Mix:
Don't have an account yet?
Sign up
Pictured in hourglass silhouette. Also available in straight silhouette. Please see our page on silhouettes for a full explanation of silhouettes in Customfit.
Berroco Blackstone Tweed [65% wool, 25% Superkid Mohair, 10% Angora] (130yd/119m per 50g ball) shown in color 2607 (Wintry Mix)
Wintry Mix uses the following design choices:
Style: pullover
Silhouettes: Pictured in hourglass silhouette. Also available in straight silhouette.
Length: Average
Sleeves: Full-length tapered sleeve
Neck style: Wide wide boat neck
Neck depth: 5"/12.5 cm below shoulders
Finishing:

Hem edging and height: Garter Stitch, 1½"/4 cm
Sleeve edging and height: Garter Stitch, 4"/10 cm
Neck edging and height: Garter Stitch, 6"/15 cm