Take a closer look!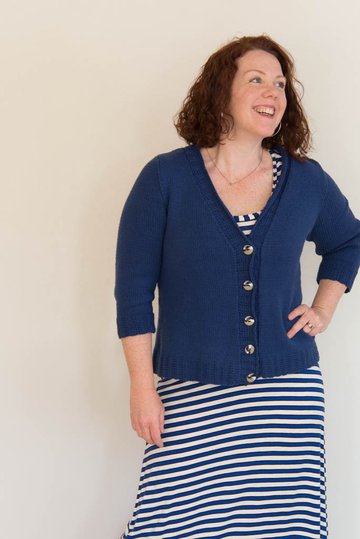 Spruce Point was a featured design both at my 2016 make. wear. love. west coast retreat, and at our partner store The Yarnover Truck's "Camp Yarnover Truck" at Stitches West 2016. A great all-weather option, Spruce Point features a classic 3/4-sleeve, longer length, V-neck silhouette with updated Broken Rib trim. We worked this sample in Skacel CoBaSi Plus, a worsted-weight non-wool yarn great for sunny LA (or most anywhere) - but the design works equally well in a wool or wool blend.
Amy is shown wearing an hourglass relaxed fit, but the design would work equally well in snugger fits.
---
Spruce Point is $12.50.
---
Customize your Spruce Point
---
Sorry, you need to be logged in to make a personalized, custom-fitting version of Spruce Point:
Don't have an account yet?
Sign up
Pictured in hourglass silhouette. Also available in straight silhouette. Please see our page on silhouettes for a full explanation of silhouettes in Customfit.
The sample shown was worked in Skacel CoBaSi Plus in the color "In the Navy", at a gauge of 5.5 stitches to one inch. At this gauge, the CoBaSi makes a lovely smooth, slightly firm fabric - which is necessary to counteract the weight of the yarn.
The design would work well in many wools or wool blends, but stick with a solid color for a similar look.
Spruce Point uses the following design choices:
Style: cardigan
Silhouettes: Pictured in hourglass silhouette. Also available in straight silhouette.
Length: Low-hip length
Sleeves: Three-quarter-length tapered sleeve
Neck style: Average-width vee neck
Neck depth: 3"/7.5 cm below armhole-shaping start
Finishing:

Hem edging and height: Broken Rib Stitch, 2¼"/5.5 cm
Sleeve edging and height: Broken Rib Stitch, 2¼"/5.5 cm
Button band allowance: 1¾"/4.5 cm
Button band edging and height: Broken Rib Stitch, 1¾"/4.5 cm