Take a closer look!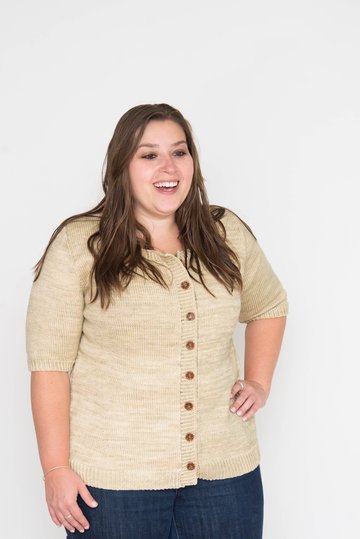 This classic cardigan is incredibly versatile based on the materials you use. Shown here in a hard-working but oh-so-soft merino/cashmere blend, it makes a great twinset piece with three-season appeal. Worked in a lighter yarn, it would make a lovely summertime cardi.
Shown on Heather in an average fit.
---
Sloop is $9.99 or one credit.
---
Customize your Sloop
---
Sorry, you need to be logged in to make a personalized, custom-fitting version of Sloop:
Don't have an account yet?
Sign up
Pictured in hourglass silhouette. Also available in a-line, straight, and tapered silhouettes. Please see our page on silhouettes for a full explanation of silhouettes in Customfit.
We used Woolen Rabbit Sporty Kashmir, a wonderfully warm and soft merino-cashmere blend, for this sweater. Amy loves this yarn (see it also in the PIlot House pullover) at a gauge of 6 stitches to the inch.
Sloop uses the following design choices:
Style: cardigan
Silhouettes: Pictured in hourglass silhouette. Also available in a-line, straight, and tapered silhouettes.
Length: Average
Sleeves: Elbow-length tapered sleeve
Neck style: Narrow-width narrow-width crew neck
Neck depth: 4"/10 cm below shoulders
Finishing:

Hem edging and height: Twisted 1x1 Ribbing, 1¾"/4.5 cm
Sleeve edging and height: Twisted 1x1 Ribbing, 1"/2.5 cm
Neck edging and height: Twisted 1x1 Ribbing, ¾"/2 cm
Button band allowance: 1¼"/3 cm
Button band edging and height: Twisted 1x1 Ribbing, 1¼"/3 cm