Take a closer look!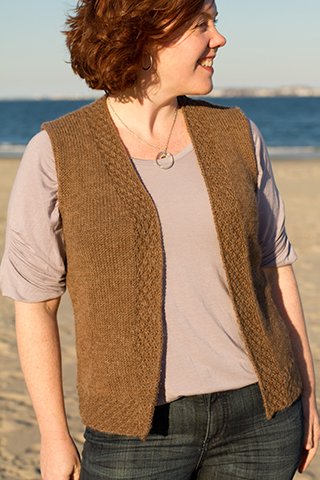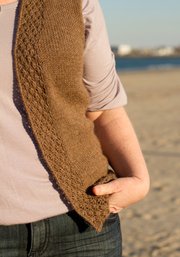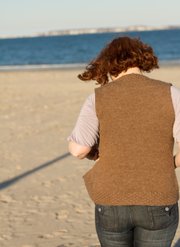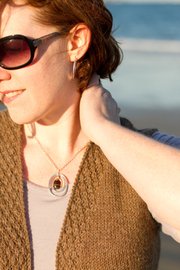 ---
Sebasco is $12.50.
Pictured in hourglass silhouette. Also available in straight silhouette.
---
Sebasco by Amy Herzog
The Sebasco Vest is an elegant transitional piece that takes the chill out of overly air-conditioned offices and cool evening breezes. A simple mid-hip cardigan vest with no closures, Sebasco's edges are trimmed with Daisy Stitch - an attractive stitch pattern that should be worked on larger needles to ensure an even gauge.
Due to the lack of closures on this vest, I recommend working Sebasco in pieces, and then seaming, for stability.
Sebasco is available in hourglass and straight silhouettes. Please see our page on silhouettes for a full explaination of silhouettes in Customfit.
Berroco Ultra Alpaca (50% Wool, 50% Alpaca; 215 yds/197m per 100g skein), shown in color: #6204 Buckwheat.
Sebasco uses the following design choices:
Style: cardigan
Silhouettes: Pictured in hourglass silhouette. Also available in straight silhouette.
Length: Medium-hip length
Neck style: Average-width vee neck
Neck depth: ½"/1.5 cm above armhole-shaping start
Finishing:

Hem edging and height: Daisy Stitch, 2½"/6.5 cm
Armhole edging and height: Icord Stitch, ½"/1.5 cm
Button band allowance: 3"/7.5 cm
Button band edging and height: Daisy Stitch, 2"/5 cm