Take a closer look!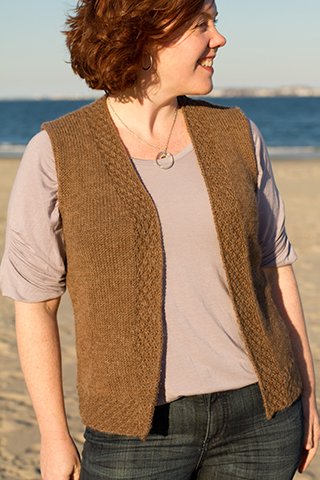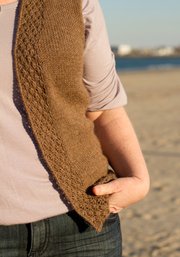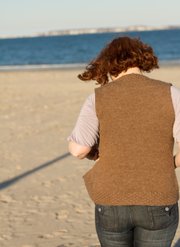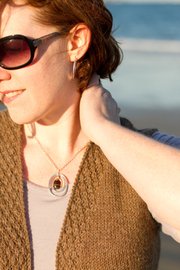 Tweet
---
Sebasco is $12.50.
---
Sebasco by Amy Herzog
The Sebasco Vest is an elegant transitional piece that takes the chill out of overly air-conditioned offices and cool evening breezes. A simple mid-hip cardigan vest with no closures, Sebasco's edges are trimmed with Daisy Stitch - an attractive stitch pattern that should be worked on larger needles to ensure an even gauge.
Due to the lack of closures on this vest, I recommend working Sebasco in pieces, and then seaming, for stability.
Sebasco is an hourglass design, so your final pattern will have waist and bust shaping. You can only use complete measurement sets to create this pattern.
Berroco Ultra Alpaca (50% Wool, 50% Alpaca; 215 yds/197m per 100g skein), shown in color: #6204 Buckwheat.
Sebasco uses the following design choices:
Style: cardigan
Silhouette: Hourglass silhouette
Length: Medium-hip length
Neck style: Average-width vee neck
Neck depth: ½"/1.5 cm above armhole-shaping start
Finishing:

Hem edging and height: Daisy Stitch, 2½"/6.5 cm
Armhole edging and height: Icord Stitch, ½"/1.5 cm
Button band allowance: 3"/7.5 cm
Button band edging and height: Daisy Stitch, 2"/5 cm