Take a closer look!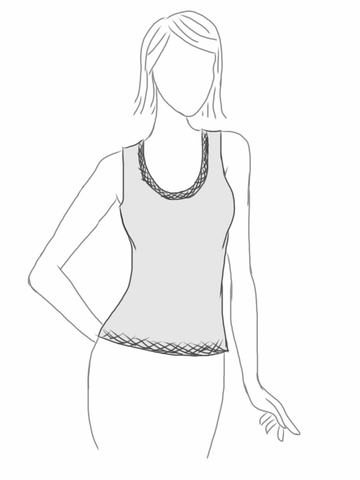 This mid-hip length pullover tank features a scoop neck and seed stitch trim. It makes a perfect warm-weather top or layering piece!
---
Scoop Neck Tank is $9.99 or one credit.
---
Customize your Scoop Neck Tank
---
Sorry, you need to be logged in to make a personalized, custom-fitting version of Scoop Neck Tank:
Don't have an account yet?
Sign up
Pictured in hourglass silhouette. Also available in a-line, straight, and tapered silhouettes. Please see our page on silhouettes for a full explanation of silhouettes in Customfit.
Scoop Neck Tank uses the following design choices:
Style: pullover
Silhouettes: Pictured in hourglass silhouette. Also available in a-line, straight, and tapered silhouettes.
Length: Average
Neck style: Average-width average-width scoop neck
Neck depth: 1"/2.5 cm above armhole-shaping start
Finishing:

Hem edging and height: Seed Stitch, 2"/5 cm
Armhole edging and height: Icord Stitch, ½"/1.5 cm
Neck edging and height: Seed Stitch, 1"/2.5 cm