Take a closer look!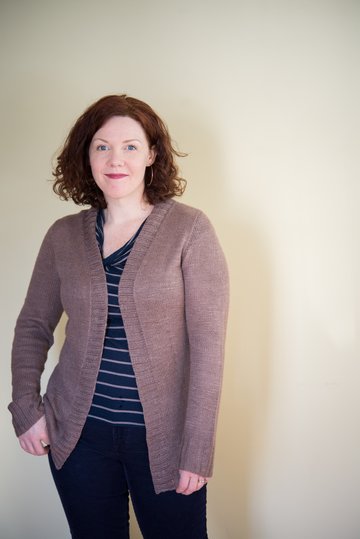 Who doesn't love an open cardigan? They're comfortable and flattering. Make several for yourself out of different favorite yarns, and wear this great style year-round. This version has a comfortable long length, classic 2x2 ribbed trim, and enough coverage that it won't be falling to the sides all the time. It's shown here in an average fit, but would also work well in a close fit. (Relaxed fits are trickier with a worn-open style - the cardigan will tend to move around more as you wear it.)
Sample shown in Classic Elite Firefly, in color "Bark".
---
---
Customize your Reservoir (an open cardigan)
---
Sorry, you need to be logged in to make a personalized, custom-fitting version of Reservoir (an open cardigan):
Don't have an account yet?
Sign up
This sample was knit in Classic Elite Firefly, a great blend of linen and viscose that's beautiful, drapey, and functional. It wears well over time, it's very comfortable to knit, and comes in a wonderful color palette.
I used the color "Bark", at a gauge of approximately 6 stitches per inch.