Take a closer look!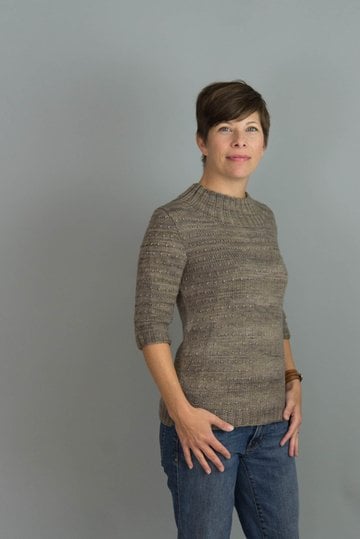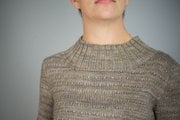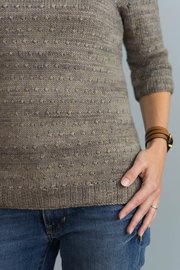 Tweet
---
Parker Head Pullover is $12.50.
---
Parker Head Pullover by Amy Herzog
Parker Head is one of the designs from the Fall 2015 make. wear. love. retreat in coastal Maine. With 3/4 sleeves, a wide mock-turtleneck neckline, waist shaping on the back only, and a versatile mid-hip length, this pullover is comfortable and classic.
The front and sleeves of the pullover are worked in Dot Texture, and the back is worked in Stockinette to facilitate waist shaping. Please swatch in Dot Texture for this garment. Jackie is shown wearing Parker Head in an average fit.
Parker Head Pullover is an hourglass design, so your final pattern will have waist and bust shaping. You can only use complete measurement sets to create this pattern.
We used The Woolen Rabbit Emma, in the color "Grey Goose", for this sample. Emma is a luscious, warm, comfortable polwarth-silk blend that comes in a ton of drool-worthy colors, and I can't recommend it highly enough.
Amy likes the Emma at a gauge of roughly 5.5 stitches to the inch.
Parker Head Pullover uses the following design choices:
Style: pullover
Silhouette: Hourglass silhouette
Length: Medium-hip length
Sleeves: Elbow-length tapered sleeve
Neck style: Custom-width crew neck
Neck depth: 3½"/9 cm below shoulders
Finishing:

Hem edging and height: 2x2 Ribbing, 2"/5 cm
Sleeve edging and height: 2x2 Ribbing, 1"/2.5 cm
Neck edging and height: 2x2 Ribbing, 3½"/9 cm