Take a closer look!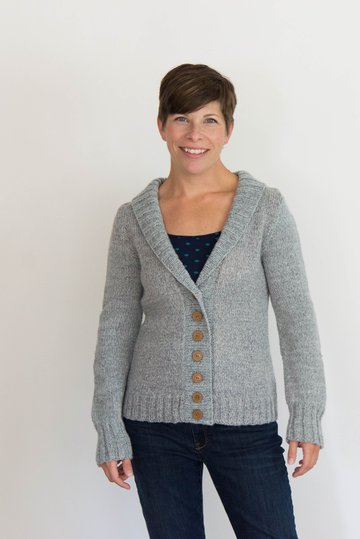 ---
Pictured in hourglass silhouette. Also available in a-line, straight, and tapered silhouettes.
---
Ketch by Amy Herzog
Shawl collars are cozy to wear and simple to knit, and Ketch will keep you warm whatever the weather. Worked with simple 2x2 ribbed trim, this basic cardigan makes a versatile wardrobe piece that is the epitome of sweater. Jackie is wearing the sample in a relaxed fit.
Ketch is available in a-line, hourglass, straight, and tapered silhouettes. Please see our page on silhouettes for a full explaination of silhouettes in Customfit.
The sample for Ketch was worked in Lorna's Laces Masham in the color "Dobson". We love Masham for its beautiful marled look, warm, soft hand, and its quick-to-knit gauge. Amy got a gauge of 4.5 stitches to the inch and absolutely loves the fabric it creates.
Ketch uses the following design choices:
Style: cardigan
Silhouettes: Pictured in hourglass silhouette. Also available in a-line, straight, and tapered silhouettes.
Length: Low-hip length
Sleeves: Full-length tapered sleeve
Neck style: Average-width vee neck
Neck depth: 2"/5 cm below armhole-shaping start
Finishing:

Hem edging and height: 2x2 Ribbing, 2½"/6.5 cm
Sleeve edging and height: 2x2 Ribbing, 3½"/9 cm
Button band allowance: 2"/5 cm
Button band edging and height: 2x2 Ribbing, 2"/5 cm