Take a closer look!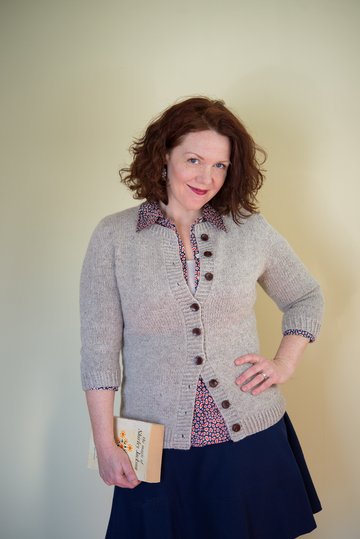 It doesn't get a whole lot more classic than a crew-neck cardigan. This one features a perfect neckline for layering, 3/4-sleeves, and showcases some of your most stunning buttons. All edges are trimmed in twisted 1x1 ribbing. Amy is wearing this sweater in an average fit, but it looks great in a relaxed fit too. (We recommend choosing a "close" fit with cardigans if you're going to wear them over an extremely thin layer like a cami.)
Sample shown in Harrisville Highland, in color "oatmeal". Buttons from M&J Trimming, though this exact style is not available online.
---
---
Customize your Inlet (a crew-neck cardigan)
---
Sorry, you need to be logged in to make a personalized, custom-fitting version of Inlet (a crew-neck cardigan):
Don't have an account yet?
Sign up
This sample was knit in Harrisville Designs Highland, an utterly fantastic 100% virgin wool spun locally in New Hampshire. It wears like a dream, comes in about a billion colors, and is one of Amy's all-time favorite sweater yarns as it just keeps getting better and better with age.
I used the color "oatmeal", at a gauge of roughly 4.5 stitches per inch.