Take a closer look!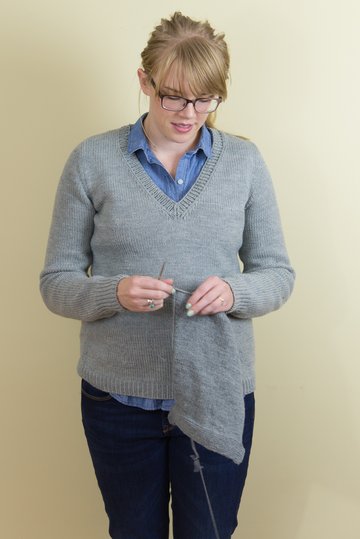 A basic V-neck sweater ranks at the top of most women's wardrobe staples. And with CustomFit, yours can suit you perfectly. This version has a nicely deep neckline, 1x1 ribbed edgings, and a classic length. Its long sleeves keep you warm, and though it's shown here on Lauren in a relaxed fit, yours will look great in all fit choices.
Sample shown in Quince and Co Lark, in color "Iceland".
---
Firth (a v-neck pullover) is $9.99 or one credit.
---
Customize your Firth (a v-neck pullover)
---
Sorry, you need to be logged in to make a personalized, custom-fitting version of Firth (a v-neck pullover):
Don't have an account yet?
Sign up
Pictured in hourglass silhouette. Also available in a-line, straight, and tapered silhouettes. Please see our page on silhouettes for a full explanation of silhouettes in Customfit.
This sample was knit in Quince and Co Lark, an all-American 100% wool that's soft, sustainable, and that comes in a variety of great colors.
I used the color "Iceland", at a gauge of approximately 5 stitches per inch.
Firth (a v-neck pullover) uses the following design choices:
Style: pullover
Silhouettes: Pictured in hourglass silhouette. Also available in a-line, straight, and tapered silhouettes.
Length: Average
Sleeves: Full-length tapered sleeve
Neck style: Average-width average-width vee neck
Neck depth: 1½"/4 cm below armhole-shaping start
Finishing:

Hem edging and height: 1x1 Ribbing, 2"/5 cm
Sleeve edging and height: 1x1 Ribbing, 3½"/9 cm
Neck edging and height: 1x1 Ribbing, 1¼"/3 cm