Take a closer look!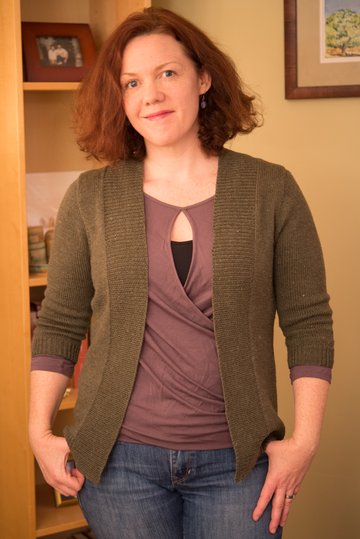 Hannah Fettig's extremely popular Featherweight Cardigan is now available via CustomFit!
Featherweight is an easy and versatile knit, making it a great first sweater for beginner knitters. The CustomFit version of Featherweight is a set-in sleeve, pieced garment that can be made with a variety of sleeve and hem lengths. Each CustomFit Featherweight pattern has been crafted especially for your body, using your own gauge numbers - so not only can chose your sweater's body and sleeve lengths, you can work it in any gauge you like, too!
To achieve the lighter-than-air style of the sweater shown, use any lace-weight or fingering yarn. The original Featherweight was knit using lace weight yarn knit at 6 sts per inch / 24 sts per 10cm. Also, the original sweater is worked with a 3/4 sleeve length and a high hip length, but both of those options can be customized to suit you!
---
Featherweight by Hannah Fettig (CustomFit version) is $12.50 or one credit.
---
Customize your Featherweight by Hannah Fettig (CustomFit version)
---
Sorry, you need to be logged in to make a personalized, custom-fitting version of Featherweight by Hannah Fettig (CustomFit version):
Don't have an account yet?
Sign up
Pictured in hourglass silhouette. Also available in straight silhouette. Please see our page on silhouettes for a full explanation of silhouettes in Customfit.
Sample shown in Malabrigo Lace.
Featherweight by Hannah Fettig (CustomFit version) uses the following design choices:
Style: cardigan
Silhouettes: Pictured in hourglass silhouette. Also available in straight silhouette.
Length: Short
Sleeves: Three-quarter-length tapered sleeve
Neck style: Average-width average-width vee neck
Neck depth: 2"/5 cm below shoulders
Finishing:

Hem edging and height: 1x1 Ribbing, 2"/5 cm
Sleeve edging and height: 1x1 Ribbing, 2"/5 cm
Button band edging and height: 1x1 Ribbing, 3½"/9 cm