Take a closer look!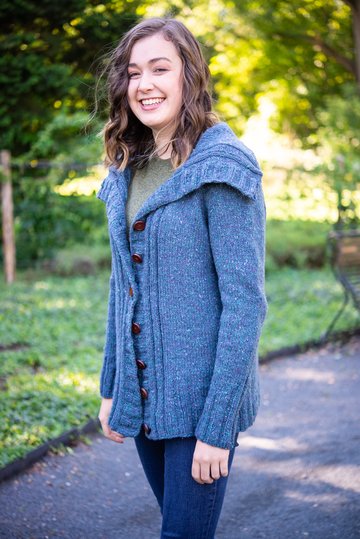 I created the Dockside Cardigan as part of the design collection for my 2018 make. wear. love. fall sweater retreat, out of Arranmore yarn from our vendor The Fibre Company. I knew that with such a luscious, tweedy yarn I'd need a fairly simple design. So I kept things classic with a collared cardigan that features a diagonally-diminishing ribbing pattern on the fronts and sleeves.
Dockside can be made in any of CustomFit's silhouettes, and would look great in the range of Fibre Company yarns. It's shown here on Christy in a women's average fit.
---
---
Customize your Dockside Cardigan
---
Sorry, you need to be logged in to make a personalized, custom-fitting version of Dockside Cardigan:
Don't have an account yet?
Sign up
Pictured in straight silhouette. Also available in a-line, hourglass, and tapered silhouettes. Please see our page on silhouettes for a full explanation of silhouettes in Customfit.
I sed The Fibre Company Arranmore, in the color "Odhram", for this design. I liked the Arranmore at a gauge of 16 stitches and 24 rows to 4'' (10 cm), which I got using US 8 (5 mm) needles.
At the same gauge, you'll need approximately 5 (5, 5, 6, 6, 6, 6, 7, 7, 7, 8, 8) hanks of Arranmore for a straight-sided cardigan that's roughly 30 (32, 34, 36, 38, 40, 42, 44, 48, 52, 56, 60)'' / 76 (81.5, 86.5, 91.5, 96.5, 101.5, 106.5, 112, 122, 132, 142, 152.5) cm in the fullest part of the bust.
Dockside Cardigan uses the following design choices:
Style: cardigan
Silhouettes: Pictured in straight silhouette. Also available in a-line, hourglass, and tapered silhouettes.
Length: Long
Sleeves: Full-length tapered sleeve
Neck style: Average-width average-width crew neck
Neck depth: 3½"/9 cm below shoulders
Finishing:

Hem edging and height: 3x2 Ribbing, 2¼"/5.5 cm
Sleeve edging and height: 3x2 Ribbing, 3½"/9 cm
Neck edging and height: 3x2 Ribbing, 7"/18 cm
Button band allowance: 2"/5 cm
Button band edging and height: 3x2 Ribbing, 2"/5 cm