Take a closer look!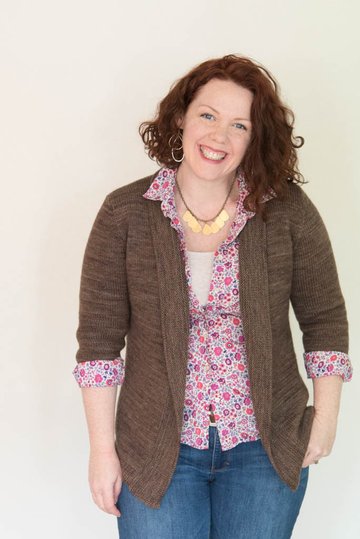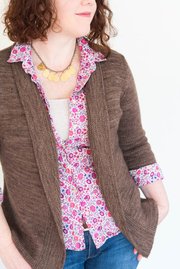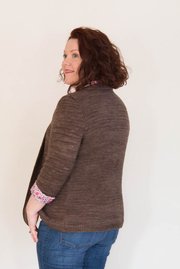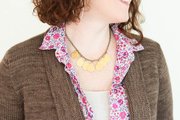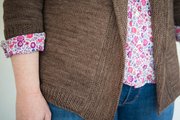 Tweet
---
Cypress Cove is $12.50.
---
Cypress Cove by Amy Herzog
Cypress Cove is a versatile, transitional open cardigan with a narrow neckline and fold-over garter stitch collar. I've worked it in a cozy 100% BFL wool with a beautiful sheen, but it would work equally well in many other materials too - from linens to cotton blends to a drapey silk blend.
Shown with 3/4 sleeves and a mid-hip length, CustomFit allows you to choose your own sleeve and hip lengths - so your Cypress Cove will be perfect for you. This is an hourglass design with waist and bust shaping, but the waist shaping is located on the back only for a clean-fronted look.
Cypress Cove is an hourglass design, so your final pattern will have waist and bust shaping. You can only use complete measurement sets to create this pattern.
Amy's sample is knit in Knitting Boutique Mattawoman, a DK-weight 100% BFL yarn in the color "Chocolate". Amy liked this yearn knit up at 5.5 stitches to the inch.
Cypress Cove uses the following design choices:
Style: cardigan
Silhouette: Hourglass silhouette
Length: Medium-hip length
Sleeves: Elbow-length tapered sleeve
Neck style: Narrow-width vee neck
Neck depth: 1"/2.5 cm below armhole-shaping start
Finishing:

Hem edging and height: 1x1 Ribbing, 1½"/4 cm
Sleeve edging and height: 1x1 Ribbing, 1"/2.5 cm
Button band allowance: 1"/2.5 cm
Button band edging and height: Garter Stitch, 3"/7.5 cm