Take a closer look!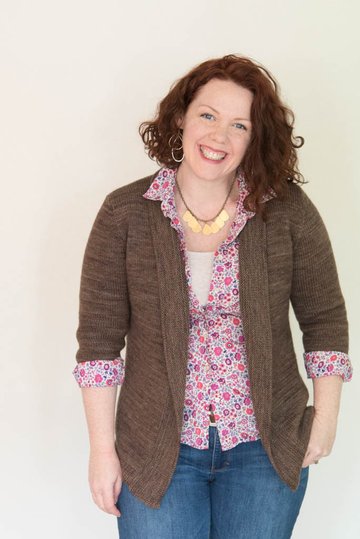 Cypress Cove is a versatile, transitional open cardigan with a narrow neckline and fold-over garter stitch collar. I've worked it in a cozy 100% BFL wool with a beautiful sheen, but it would work equally well in many other materials too - from linens to cotton blends to a drapey silk blend.
Shown with 3/4 sleeves and a mid-hip length, CustomFit allows you to choose your own sleeve and hip lengths - so your Cypress Cove will be perfect for you. This is an hourglass design with waist and bust shaping, but the waist shaping is located on the back only for a clean-fronted look.
---
---
Customize your Cypress Cove
---
Sorry, you need to be logged in to make a personalized, custom-fitting version of Cypress Cove:
Don't have an account yet?
Sign up
Amy's sample is knit in Knitting Boutique Mattawoman, a DK-weight 100% BFL yarn in the color "Chocolate". Amy liked this yarn knit up at 5.5 stitches to the inch.