Take a closer look!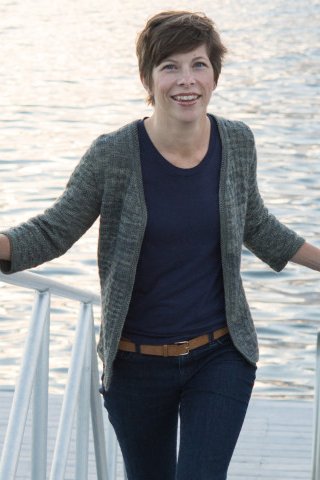 Cushman, a sweater I designed for my first "make wear love" retreat on the coast of Maine, is a great layering piece for patio dinners on chilly nights and clambering around the shoreline anytime. Its worn-open style can be dressed up or down, and it looks good layered over anything. The textured stitch is interesting, but not fussy or difficult since its a simple knit-purl combination. Simple, narrow garter trim keeps things neat and clean.
I recommend working Cushman in pieces, and then seaming, for stability. The 3/4-length sleeves are warm while staying out of your way, and the seams provide the garment with stability and keep it in place on your body despite the lack of closures. The narrow vertical opening slims the torso and offers a peek at a super-sweet top.
---
Cushman is $12.50.
---
Customize your Cushman
---
Sorry, you need to be logged in to make a personalized, custom-fitting version of Cushman:
Don't have an account yet?
Sign up
Pictured in hourglass silhouette. Also available in straight silhouette. Please see our page on silhouettes for a full explanation of silhouettes in Customfit.
String Theory Blue Faced Sport [100% Blue Faced Leicester Wool]; 252 yrds/230m per 155g hank, shown in the color Skerry
Cushman uses the following design choices:
Style: cardigan
Silhouettes: Pictured in hourglass silhouette. Also available in straight silhouette.
Length: Medium-hip length
Sleeves: Three-quarter-length tapered sleeve
Neck style: Average-width vee neck
Neck depth: 1"/2.5 cm above armhole-shaping start
Finishing:

Hem edging and height: Garter Stitch, ½"/1.5 cm
Sleeve edging and height: Garter Stitch, ½"/1.5 cm
Button band allowance: 2"/5 cm
Button band edging and height: Garter Stitch, ½"/1.5 cm