Take a closer look!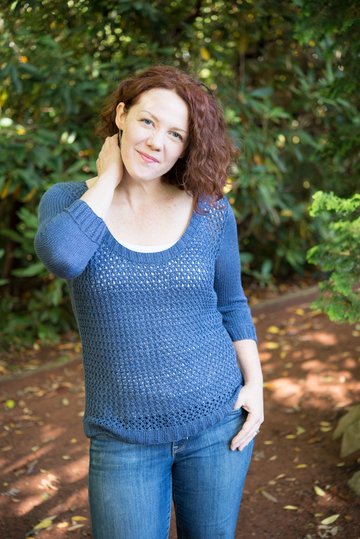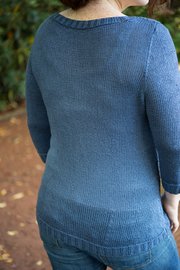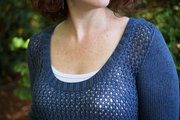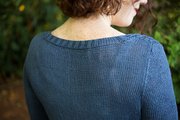 ---
Coracle is $12.50.
Pictured in hourglass silhouette. Also available in straight silhouette.
---
Coracle by Amy Herzog
Coracle was Amy's sweater for the 2014 SSKAL, and represents the kind of sweaters she most likes to wear in the warmer months - light, drapey, and comfortably relaxed. Its 3/4 sleeves, wide neckline, and mid-hip length all work gloriously with the front's all-over mesh pattern to create a lighter-than-air, ultra-comfortable "sweatshirt" sweater.
The sample was worked in Rowan's TrueSilk yarn, a 100% silk chainette construction yarn that has great elasticity and utterly glorious drape. There are plenty of seams in this sweater to counteract the silk's drape and the sweater's relaxed fit - the result is stunning. This sweater includes waist shaping worked on the back only, which relaxes the garment's fit even more and allows for a smooth, unbroken lace front.
When choosing yarn for your version of Coracle, please choose fibers with good drape and sheen if you'd like your sweater to look like the sample.
Coracle is available in hourglass and straight silhouettes. Please see our page on silhouettes for a full explaination of silhouettes in Customfit.
Coracle uses the following design choices:
Style: pullover
Silhouettes: Pictured in hourglass silhouette. Also available in straight silhouette.
Length: Medium-hip length
Sleeves: Three-quarter-length tapered sleeve
Neck style: Wide scoop neck
Neck depth: 1"/2.5 cm below armhole-shaping start
Finishing:

Hem edging and height: 2x2 Ribbing, 2½"/6.5 cm
Sleeve edging and height: 2x2 Ribbing, 2"/5 cm
Neck edging and height: 2x2 Ribbing, 2"/5 cm