Take a closer look!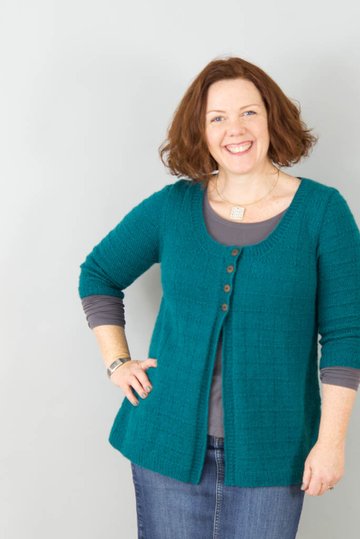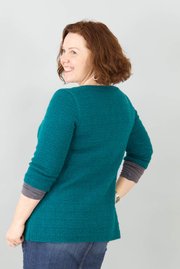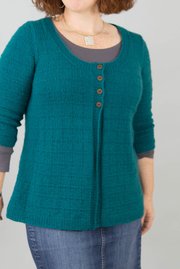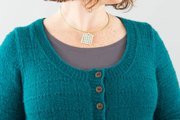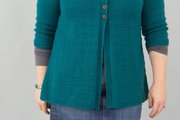 Tweet
---
Clearview Cardigan is $12.50.
---
Clearview Cardigan by Amy Herzog
Clearview is a versatile, classic cardigan with an A-line shape, clean texture, and buttons on the top of the garment only. It is worked in pieces from the bottom up, and is shown with 3/4 sleeves and a "long" sweater length (though CustomFit will make it for you in any sleeve and sweater length you like.)
It features a flattering scoop neckline, broken 1x1 rib trim, and an easy-to-work Windowpane knit/purl texture. One note on the stitch patterning: There are 8 stitches in each repeat, which is fairly high - so I have not restricted CustomFit's stitch counts to be exact multiples. This means you'll get a sweater that fits great, but you may have to work partial stitch repeats on the sides of your pieces.
Clearview Cardigan is an a-line design, so your sweater pattern will have no waist shaping. The hem will be larger than the bust/chest by at least 4 inches (10 cm), with shaping worked along the side seams. You can adjust the dimensions by clicking 'customize fit specifics'. You can use any measurement set to create this pattern.
I used Solitude Wool's lovely Coopworth sport yarn for this sample. Coopworth is a Longwool breed that's a cross between Romney and Border Leicester. The wool has a beautiful, fuzzy sheen and almost an ethereal quality to the stitches. I found it light, warm, and just beautiful in the knit-purl textures of Clearview. I enthusiastically recommend it for this design. I can recommend Solitude Wool, as a company, even more enthusiastically: Sue and Gretchen are passionate about breed-specific yarns and fibers that support small farms and show off the best characteristics of each breed. Find out more about them at the Solitude Wool website.
The sample is shown in the color "Bora Bora", and while of course your own individual yardage may vary, if you're using the Coopworth you'll need approximately 4 (4, 4, 4, 5, 5, 5, 5, 6, 6, 7, 7) hanks for a standard size 32 (34, 36, 38, 40, 42, 44, 48, 52, 56, 60, 64)'' bust.
Clearview Cardigan uses the following design choices:
Style: cardigan
Silhouette: A-line silhouette
Length: Low-hip length
Sleeves: Three-quarter-length tapered sleeve
Neck style: Custom-width scoop neck
Neck depth: ½"/1.5 cm above armhole-shaping start
Finishing:

Hem edging and height: 1x1 Broken Rib, 1¼"/3 cm
Sleeve edging and height: 1x1 Broken Rib, 1¼"/3 cm
Neck edging and height: 1x1 Broken Rib, 1¼"/3 cm
Button band allowance: 1¼"/3 cm
Button band edging and height: 1x1 Broken Rib, 1¼"/3 cm