Take a closer look!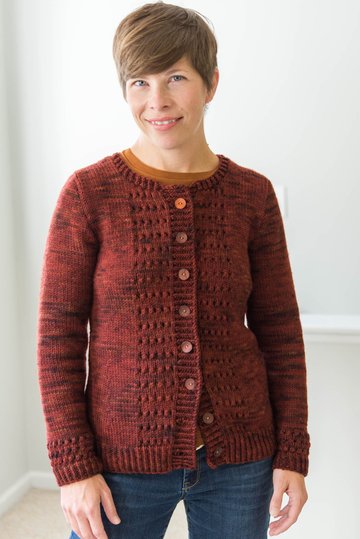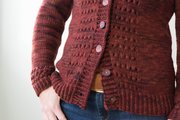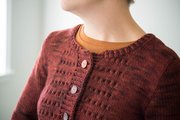 Tweet
---
Burnish is $12.50.
---
Burnish by Amy Herzog
Burnish is a simple, crew-neck cardigan with easygoing eyelet stripes on the fronts and sleeves. It's trimmed in twisted 1x1 rib, and we worked the sample in a classic, bulky wool - Spirit Trail Fiberworks Vesta. Burnish makes a great first foray into sweaters with lace, and each CustomFit pattern will be created specifically to your choice of measurements and gauge.
Burnish is an hourglass design, so your final pattern will have waist and bust shaping. You can only use complete measurement sets to create this pattern.
We worked this sample in Spirit Trail Fiberworks Vesta, a lovely and cushy super-fine wool at a quick-knitting bulky weight. It's shown in the color "Red Tiger's Eye". The 36'' sample took exactly 3 hanks of this lovely yarn; Amy liked it worked up at 4 stitches to the inch.
Burnish uses the following design choices:
Style: cardigan
Silhouette: Hourglass silhouette
Length: Medium-hip length
Sleeves: Full-length tapered sleeve
Neck style: Custom-width crew neck
Neck depth: 3¼"/8.5 cm below shoulders
Finishing:

Hem edging and height: Twisted 1x1 Ribbing, 2¼"/5.5 cm
Sleeve edging and height: Twisted 1x1 Ribbing, 1½"/4 cm
Neck edging and height: Twisted 1x1 Ribbing, ¾"/2 cm
Button band allowance: 1½"/4 cm
Button band edging and height: Twisted 1x1 Ribbing, 1½"/4 cm