Take a closer look!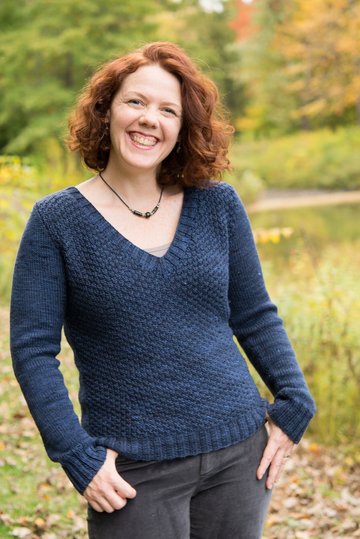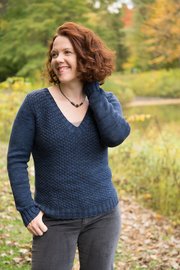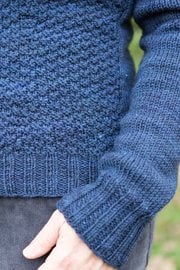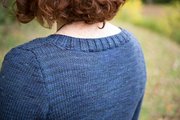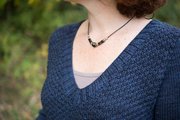 Tweet
---
Bridgefield is $12.50.
---
Bridgefield by Amy Herzog
Bridgefield is an easy-going pullover that combines an unspeakably luscious yarn with a relaxed silhouette and interesting texture. The deep V-neckline, mid-hip length, and long sleeves make this sweater a joy to wear, and the Double Moss Stitch front is fun to knit as well.
I worked the sample in a worsted-weight blend of wool, cashmere, and silk: Spirit Trail Fiberworks' Verdande, in color "Wild Blueberries". The sheen and softness of the yarn, along with its drape, make it a beautiful match for this comfy, day-in-and-day-out sweater. I highly recommend it.
The yarn is on the heavier side, so if you use similar materials I recommend working Bridgefield from the bottom up in pieces for stability. The back and sleeves of this sweater are Stockinette, and the front is worked in Double Moss Stitch. 2x2 ribbing trims all edges.
Bridgefield is an hourglass design, so your final pattern will have waist and bust shaping. You can only use complete measurement sets to create this pattern.
Bridgefield uses the following design choices:
Style: pullover
Silhouette: Hourglass silhouette
Length: Medium-hip length
Sleeves: Full-length tapered sleeve
Neck style: Average-width vee neck
Neck depth: 2"/5 cm below armhole-shaping start
Finishing:

Hem edging and height: 2x2 Ribbing, 2½"/6.5 cm
Sleeve edging and height: 2x2 Ribbing, 3"/7.5 cm
Neck edging and height: 2x2 Ribbing, 2"/5 cm