CustomFit Mash-Ups and For-Purchase Recipes
Mash-Up Worksheets
A CustomFit "Mash-Up" is the process of recreating a non-CustomFit design, with CustomFit. Amy wrote a tutorial on the process that you can read by clicking here. She also created a downloadable worksheet that you can use - get the worksheet by clicking here. 
For some of Amy's designs that aren't built directly into CustomFit, she's also made design-specific worksheets with everything you need to know. Here's a list: 

CustomFit Recipes
A CustomFit Recipe is a for-sale set of instructions, made by the designer of a particular sweater, for using CustomFit to recreate that sweater. Links from this page go to the designer's Ravelry page for the recipe; photos used with permission, and descriptions are courtesy the designers. 
Designer: Kim McBrien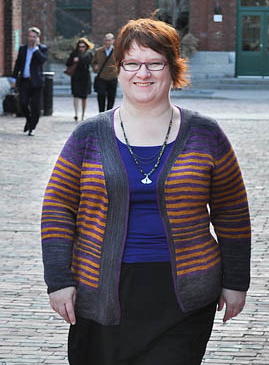 Dopamine: A cool, slightly-offbeat sweater with sleek lines. Because stripes are addictive, colour is fun to play with and I bet you can't knit just one. Click here to view on Ravelry.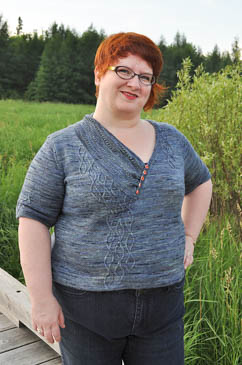 Curvy Twisty Viney Things: This pullover combines easy asymmetry and the flow and interest of organic textures. The collar is designed to expand and contract depending on how much warmth you need and how you feel like wearing it from day to day. Click here to view on Ravelry. 
Waffleupagus:  A warm and cozy sweater to carry you through fall and into cold winter nights. The subtle, lacy rib stitch pattern keeps you warm, while allowing for a little air and ventilation when moving from outdoors to indoors. Click here to view on Ravelry.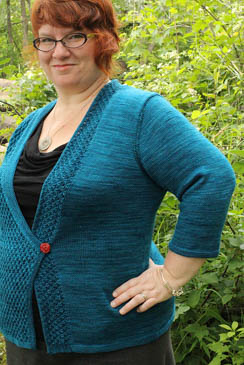 Meander: A quietly elegant, slightly off centre cardigan with details that won't quit. Designed to keep you interested until the very end, it is half lace, half stockinette and all angles and juxtaposition.. Click here to view on Ravelry.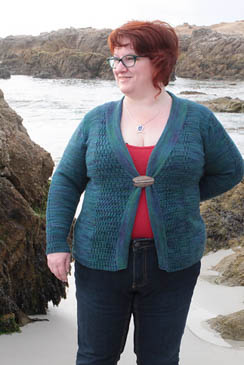 Snathaid: Snáthaid (pronounced SNA-head) is an Irish word that makes up part of "dragonfly" and "needle". I found this dragonfly's wing brooch made by Andrew Goss and immediately envisioned a sweater with this as it's closure. The Dragonfly Wing Cell stitch pattern reminds me of the myriad of polygons on a dragonfly's wing. The stitch pattern has been expanded and contracted to follow the shaping of the sweater. Click here to view on Ravelry.