Take a closer look!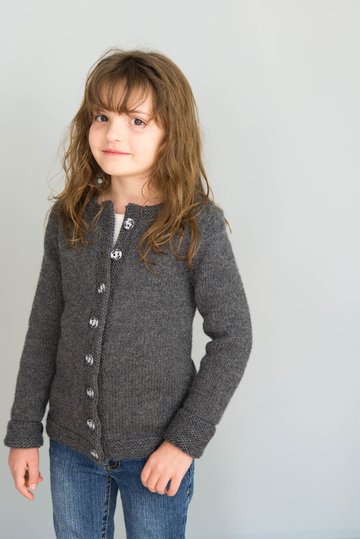 Looking for a stylish update to a classic crew-neck cardigan? Try this version, with garter stitch trims. It works well for both kids and grown-ups, and in any gauge you like.
Vendavel is an average-length, long-sleeve cardigan with crew neck shaping and slim Garter stitch trims everywhere: The hem has 1.5'' (4 cm) of Garter, the sleeves 2.5'' (6.5 cm), and the button band is just 1.25'' (3 cm). Brenna is wearing this cardigan with a child's close fit.
---
Vendavel is $9.99 or one credit.
---
Customize your Vendavel
---
Sorry, you need to be logged in to make a personalized, custom-fitting version of Vendavel:
Don't have an account yet?
Sign up
Pictured in straight silhouette. Also available in a-line, hourglass, and tapered silhouettes. Please see our page on silhouettes for a full explanation of silhouettes in Customfit.
We worked this sample in the soft, super-hard-wearing, very easy-care Berroco Vintage, in color 5107 "Cracked Pepper". Vintage comes in many colors and several weights, and is a great choice for this sweater.
Amy liked the Vintage at a gauge of 20 stitches and 28 rows to 4'' (10 cm).
Vendavel uses the following design choices:
Style: cardigan
Silhouettes: Pictured in straight silhouette. Also available in a-line, hourglass, and tapered silhouettes.
Length: Average
Sleeves: Full-length tapered sleeve
Neck style: Average-width average-width crew neck
Neck depth: 2½"/6.5 cm below shoulders
Finishing:

Hem edging and height: Garter Stitch, 1½"/4 cm
Sleeve edging and height: Garter Stitch, 2½"/6.5 cm
Neck edging and height: Garter Stitch, ¾"/2 cm
Button band allowance: 1¼"/3 cm
Button band edging and height: Garter Stitch, 1¼"/3 cm