Take a closer look!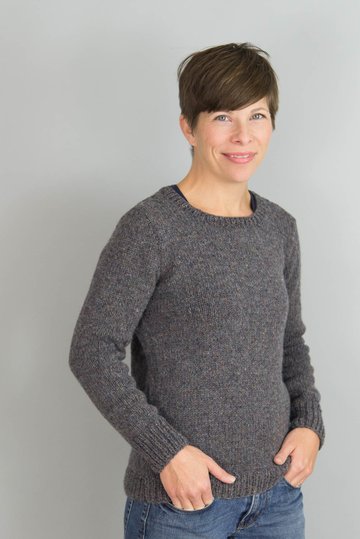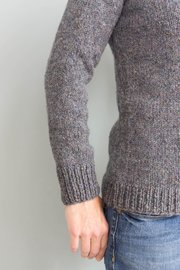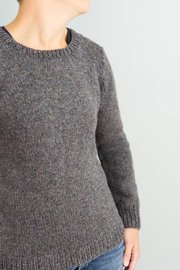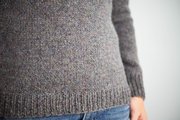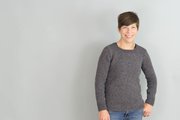 ---
Pictured in straight silhouette. Also available in a-line, hourglass, and tapered silhouettes.
---
Tramontane by Amy Herzog
Is there anything more classic than a crew-neck pullover? Tramontane is a basic sweater that's perfect for just about anyone. It can be made in any gauge you like, for any person you like, and is a great basic pattern to dress up if that's the kind of knitter you are.
I worked our Tramontane in an exceptional woolenspun yarn from the historic, exceptional folks at Harrisville Designs, and I love the way the incredibly subtle color blending looks with this classic silhouette as a canvas. The sweater has 1x1 ribbed trim everywhere, with long sleeves and an average sweater length.
Jackie is wearing the sample with a woman's average fit.
Tramontane is available in a-line, hourglass, straight, and tapered silhouettes. Please see our page on silhouettes for a full explaination of silhouettes in Customfit.
This sample is worked in WATERshed in the color "Granite". Amy loves Watershed, and worked this sample up at 17 stitches and 26 rows to 4'' (10 cm).
Tramontane uses the following design choices:
Style: pullover
Silhouettes: Pictured in straight silhouette. Also available in a-line, hourglass, and tapered silhouettes.
Length: Medium-hip length
Sleeves: Full-length tapered sleeve
Neck style: Average-width crew neck
Neck depth: 3½"/9 cm below shoulders
Finishing:

Hem edging and height: 1x1 Ribbing, 2"/5 cm
Sleeve edging and height: 1x1 Ribbing, 3"/7.5 cm
Neck edging and height: 1x1 Ribbing, ¾"/2 cm