Take a closer look!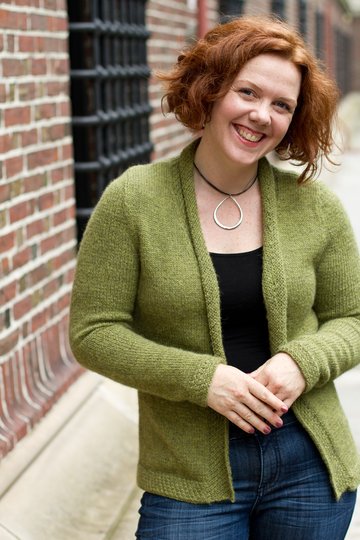 New Towne is an easy to wear cardigan with a wide edging of a crochet-like pattern called Rosette Stitch. The cardigan is worked in pieces from the bottom up, with set-in sleeves. The collar is picked up and worked in long rows after seaming, with some short rows to shape the back neck. It is meant to be worn open.
---
---
Customize your New Towne
---
Sorry, you need to be logged in to make a personalized, custom-fitting version of New Towne:
Don't have an account yet?
Sign up
Pictured in hourglass silhouette. Also available in a-line and straight silhouettes. Please see our page on silhouettes for a full explanation of silhouettes in Customfit.
Blue Sky Alpacas Melange [100% Alpaca; 110 yd (100m); 50 g hank; color: #808 Relish.
New Towne uses the following design choices:
Style: cardigan
Silhouettes: Pictured in hourglass silhouette. Also available in a-line and straight silhouettes.
Length: Long
Sleeves: Full-length tapered sleeve
Neck style: Narrow-width narrow-width vee neck
Neck depth: ½"/1.5 cm below armhole-shaping start
Finishing:

Hem edging and height: Rosette Stitch, 1½"/4 cm
Sleeve edging and height: Rosette Stitch, 1½"/4 cm
Button band allowance: 2½"/6.5 cm
Button band edging and height: Rosette Stitch, 2"/5 cm