Take a closer look!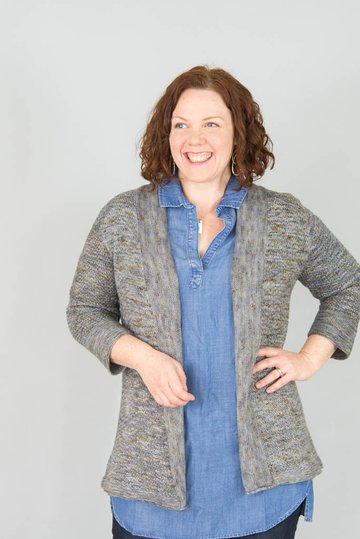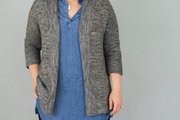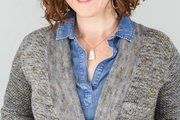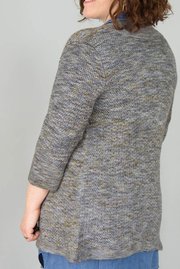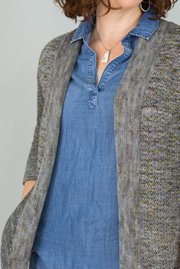 Tweet
---
Lucas Point Cardigan is $12.50.
---
Lucas Point Cardigan by Amy Herzog
I created Lucas Point as part of the design collection for the 2017 make. wear. love. west sweater retreat, out of yarn from our lovely vendor Indigodragonfly. It's a newer interpretation on my beloved (and now fairly old) design Caulfield. Lucas Point features the same 3/4-sleeve, open-front look as the original, but now sports a comfortable A-line silhouette and updated trims.
When swatching, please work your swatch in the Slip Stitch Eyelet pattern used as the allover stitch of this design. Amy is shown wearing the cardigan in a women's average fit.
Lucas Point Cardigan is an a-line design, so your sweater pattern will have no waist shaping. The hem will be larger than the bust/chest by at least 4 inches (10 cm), with shaping worked along the side seams. You can adjust the dimensions by clicking 'customize fit specifics'. You can use any measurement set to create this pattern.
The sample is shown in the lovely Indigodragonfly CaribouBaa, in the colorway "Epiphyte Club". The 100% merino is soft and lovely to knit with, and the slightly-speckled nature of this colorway (and the similarly-dyed colorways that Kim has created) make a great match for the slip-stitch texture of this design.
Amy liked the CaribouBaa at a gauge of approximately 8 stitches and 11 rows to 1'' (2.5 cm); if you're using the same yarn, at the same gauge, you'll need approximately 4 (5, 5, 5, 6, 6, 7, 7, 8, 8, 9, 10) hanks of the CaribouBaa for a standard-size 30 (32, 34, 36, 38, 40, 42, 44, 48, 52, 56, 60)'' sweater. (If you're using anything else, or getting a different gauge, Amy strongly recommends Hannah Fettig's excellent app "Stashbot" to estimate yardage quantities.)
Lucas Point Cardigan uses the following design choices:
Style: cardigan
Silhouette: A-line silhouette
Length: Low-hip length
Sleeves: Three-quarter-length tapered sleeve
Neck style: Narrow-width vee neck
Neck depth: 1½"/4 cm below armhole-shaping start
Finishing:

Hem edging and height: Garter Stitch, 1½"/4 cm
Sleeve edging and height: Garter Stitch, 3"/7.5 cm
Button band allowance: 2"/5 cm
Button band edging and height: Reverse Stockinette, 4"/10 cm